Spaghetti Squash with the Spesh Sauce
WHEN: A special dinner, don't forget the leftovers for lunch.
WHAT: Spaghetti squash is roasted. Salmon is baked. Chickpeas, basil and avocado are blended to create a sauce that feels indulgent and guilt free.
WHY: Joe grew up eating fettuccine alfredo with salmon on a pretty regular basis. Sydney loves all things that are creamy, but they do not love her tummy back. On a trip to visit Joe's family, instead of having the usual fettuccine alfredo dinner, Joe thoughtfully suggested to substitute the alfredo sauce for pesto. Pesto wasn't something Joe and Sydney usually bought, and they also hadn't really thought of having it until this trip home. Some time after, while at a potluck, they discovered the amazingly delicious basil hummus dip one of Joe's classmate brought. And, BAM! Ideas collided. After having it with fettuccine a few times, spaghetti squash eventually replaced it. Nuts are a regular in pesto but they were cut due to cost and an old blender.
Since they nailed down this meal, Joe and Sydney have been making it pretty regularly for their roommates, friends, and parents as a special weekend dinner.
HOW: You will need the following from your pantry - Olive oil, salt, pepper, and a blender/food processor (if any of you readers figure out how to make it without the blender, please comment below and tell us!)
Ingredients:
Spaghetti Squash
Salmon - If you're not a salmon person, any other light white fish could be used here, just adjust your cooking times accordingly
Garlic - a full head of garlic should be enough, you can add as much or as little as you like to this dish. Joe adds about 15 cloves (this is only a slight exaggeration)
One ripe avocado
A package of basil - grab one of the .75 - 1 once sized packages.
Can of chickpeas, drained. Save the liquid.
A lemon. Juiced.
Parmesan cheese - ½ half cup, grated...but if you're like Joe and Sydney you'll want more for topping your dish once it's plated!
Steps for Success:
Preheat your oven to 400 degrees (F).
Prep the Spaghetti Squash:
If you haven't done this before, be safe. If you're dangerous with knives like Sydney, give this job to someone else. You'll want to chop the squash in half the long ways (or like a hot dog bun).
Scrape out the seeds and guts with a sturdy metal spoon and toss em out.
Turn the squash over so that the cut side is down and grab a fork and prick both outside halves of the squash.
Get some olive oil on your hands and give it a rub down.
Salt and pepper to taste and put the halves cut side down in a baking dish.
Fill the baking dish with about half and inch to an inch of water.
Throw it in the oven for about 40-45 minutes, until the squash is soft when a fork is pushed through the skin.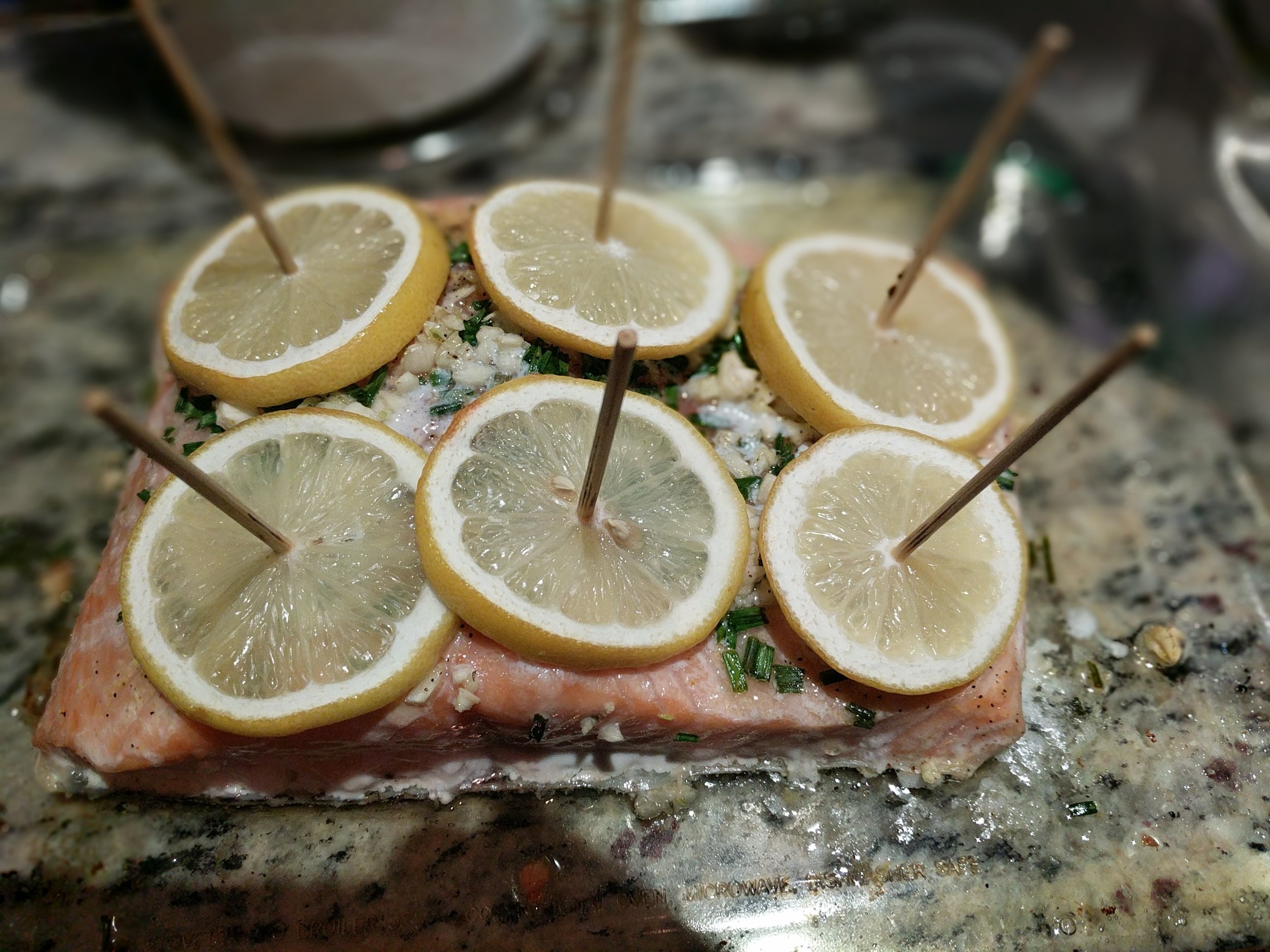 While the squash is in the oven, find a baking pan for your fish.
Dress your salmon to your preference. Joe and Sydney normally mince some garlic (about 3 - 4 cloves), salt and pepper to taste, take half of the lemon juice and throw it all on top.
Bonus: Throw some breadcrumbs on top with some extra parmesan cheese, or just some bits of delicious butter.
With 25 minutes left on your squash timer, throw the salmon in the oven. Joe normally lowers the oven temp a bit here to 350 which you can also do if you like, or you can live on the dangerous side with Sydney and leave it at 400.
Blend the Sauce:
Rinse your basil and pat dry.
Slice your avocado in half, remove the pit.
Open your can of chickpeas.
Mince about 10 cloves of garlic, you won't regret it...okay maybe more like 2-3 cloves.
Joe and Sydney don't have a super high quality blender so they have to put about 3/4th of the basil on the bottom of the blender first. Then add about half of the can of chickpeas along with some of the liquid from the can (depending on the skill of your blender you may need more or less).
Drop half the avocado in there, along with ¼ cup of parmesan, and the other half of the lemon juice. Blend it together until you start to create a sauce that is green and slightly creamier than hummus.
Add the last of the basil, the other ¼ cup of parmesan, about ¼ cup of olive oil, and the other half of the avocado and blend again.
If your mixture is too thick, add some olive oil/water/chickpea juice (your choice). If your mixture is too watery, add more chickpeas. Make sure you taste as you go and add salt and pepper to taste, or any other spice or herb you like!
Note: Once you get the basic ingredients in there it's a pretty easy sauce to manipulate to your tastes, providing that you enjoy pesto and hummus to begin with. You can make this sauce as thick or as thin as you'd prefer.
Finish spaghetti squash:
Once the squash is fork tender, pull it out and and let it cool for a few minutes.
Once it's cool enough to handle, flip the squash over and create the spaghetti goodness. Take a fork and scrape the flesh of the squash to create spaghetti strands.
Place the scrapped squash into a colander and drain.
Pull your salmon out of the oven once it's done to your liking:
Joe and Sydney like it pretty well done, so they just always cut it open to take a look to see what the color is like on the inside.
EAT :)
Grab yourself a plate and throw some spaghetti squash on there. Throw a piece of salmon down, and top them both off with loads of sauce.
Before you deal with your squash but after you've preheated the oven, take a whole head of garlic and use a knife to slice the tops of the cloves off. Don't peel it. Pour a caps worth of olive oil on the exposed clove, and rub it over them. Wrap in tin foil and roast in the oven for about 40-45 minutes or until the cloves are soft and buttery, golden brown. The cloves will easily fall out of the head and you can use them in the sauce. Your kitchen will smell amazing and everyone will be impressed.
Brussel sprouts are a popular side dish.

They're tossed with olive oil, salt and pepper in a bowl and roasted in a pan along with everything else. They're usually thrown in with the salmon. Watch them and stir every now and again.
Super special occasion? Serve this with some challah bread or better yet GARLIC challah bread.

Just grab a challah loaf, slice in half and mince up more garlic. Brush some olive oil or butter on there and load up with garlic. Warm in the oven.